Professional Food Processing Blade Manufacturer
We concentrates on the R&D and production of diverse food processing blades for our partners. Whether it's for meat, vegetable, fruit, snack or bread processing, we will design and produce high quality oxidation resistant food processing blades for you to ensure the safety of food processing.
Leading Food Processing Blade Manufacturing Technology
Under close tolerance quality control standards, our food processing blades are crafted from the highest-quality materials to ensure the food processing blades are durable and oxidation resistant in actual use. Meanwhile, through professional heat treatment and surface grinding technology, it will ensure the food processing blades still maintain their excellent sharp cutting ability under high speed operation or other usage Scenarios. Also, it will improve circular food processing blades' durability and cutting stability to guarantee cutting mechanical efficiency.
Part Food Processing Blade Display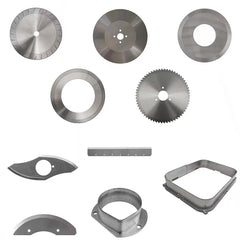 Food Processing Blade Into Wide Application
Food processing blades are widely used in many areas:
Poultry
Fish, Lobster
Meat (pork, beef, mutton)
Fruits, vegetables, grains
Snack
Bread
Efficient Food Processing Blade Customization Service

Customization service: If you do not find what you want in our product collection, you can directly contact us and tell your requirements or send drawing and sample to us. Our experts will handle your order as soon as possible. (Sales@kangblade.com)
Various Food Processing Blade Materials 

The materials of food processing blade commonly include TCT, HSS, SKD-11, SKD-61, SKH-2, SKH-9, DC53, D2, H13, SUS-420, SUS-440B, SUS-440C, 65Mn, SUJ-2, H13, M2, SK-2, SK-5, SK-7, HS2-9-1-8, M41, M42, SKH40, SKH55, M1, M2, M4, M7, SKH-10, H6-5-2C and so on. The specific material choose is up to you.
Food Processing Blade Display
The product display below not only includes the popular types, but also the unique types which we designed for partners in the past.↓↓↓
Contact us
If you have any need of food processing blade, contact us and get free quote at any time! We will try our best to serve you. (Sales@kangblade.com)